World Shapers Hemel Hempstead
Post your Childrens Activity information to: troy@hemelonline.com
Adventure Playgrounds - Beavers, Cubs and Scouts - Brownies, Rainbows and Guides - Childrens Activities - Dance Classes - Football - Holiday Playschemes - Pre-Schools and Playgroups - Stage Schools - Toddler Groups
Also see: Hobbies and Leisure - Sport, Clubs & Societys - Youth Groups
---

WorldShapers Children's Centre in Woodhall Farm and Grovehill
We have now been up and running for a couple of years. Together with the other centres in Hemel Hempstead, there has been a lot of piloting and exploring ways to best support 0 – 4 year olds, their parents and the professionals.
Some of the great encouragements have been the different events for the community. This has included days with animal farms, messy play days, and much more.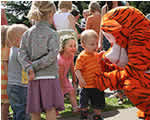 Recently our Play and Outreach Worker Sam Pamplin arranged a number of different Pirate Days for children. These sessions were offered to childminders, preschools, nurseries and others in the area who would like to attend a special day. All the different events were very well attended and the children enjoyed a time in fantasy land.
It has also been great to see the result of a consultation around a playground in Grovehill, which is now finished so the parents and their children can enjoy seeing the results of their opinions.
The Children's Centre is keen to work in partnership with many different groups supporting children, their families in the area and their professionals. A new childminder network has also been established to support the childminders in whatever way possible.
Different groups have also been using the new kitchen at Woodhall Farm Community Centre to do cooking and other activities with their children.
It is possible to be very flexible as a service and the staff are always interested in hearing about new provision, gaps in provision and ways to do more for children and their parents without breaking the bank. The Children's Centre also publishes a special magazine a couple of times a year to help parents get a good overview of what is happening on the estates.
Grub club
Recently the Children's Centre has supported the start of a Grub Club for teenage mothers. The purpose of the club is for the young mums to come together and enjoy being with their children as well as getting good ideas from each other.
The very successful 1 – 2 – 3 Magic Parenting course was offered recently as were special events for travellers and their children.
Nothing is too small for us to be concerned with. Do contact Lillian, Sam or Kolade on 01442 269 804 to find out more about your Children's Centre.
http://www.worldshapers.org.uk/childrens-centre/grove_hill_woodhall_farm/index.html